Amman | Easy Rental Amman Airport Car Rental
Jordan Tourist Sites - Attraction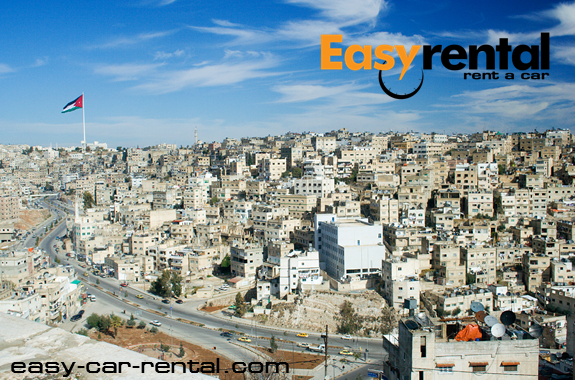 Almost half Jordan's population is concentrated in Amman; Jordan's capital. Amman as we see it now is the civilized capital of the Hashemite kingdom, it has evolved a lot from the late 19th century when Emir Abdulla Ibn Al-Hussein established it and since then it has become a modern capital holding the rich tourism sector, as well as educational, economic, health …sectors; all commercial, cultural and political activities are centralized in Amman. It is home for all interests.Amman the capital is a modern, safe, and friendly city. No more than a five hour drive from anywhere in the country, it is a convenient place to base your tour from. Known as Rabbath-Ammon during prehistoric periods and later as Philadelphia, the ancient city that was once part of the Decapolis league, now boasts a population of around 1.5 million. Often referred to as the white city due to its canvas of white stone houses, Amman offers a variety of historical sites including the Citadel and the magnificent Roman Theatre. Amman also contains an impressive array of restaurants, bars and shopping areas.
Transportation in Jordan is not a concern; Queen Alia International Airport is about 30 minutes away from south Amman. Bus and taxi means are also available to ease your touristic stay at Amman. As for its weather, you can take benefit of its 4 seasons, summer temperatures vary between 28 and 35 degrees Celsius, winter time is not a tough time, some rain and it rarely snows. Spring and Autumn are truly agreeable.
It is very well known for its seven hills that are burst with stone colored houses of plane roofs. Its hills get a remarkable admiration by the tourists. It is called the White City after its luminous white houses that date to many past ages. It is simply a combination of the old world and the new world. It may be considered one of the oldest cities on earth. Many civilizations have lived in Jordan, we mention some of them: Ammonites, Babylonians, Nabateans, Romans, Circassains knowing that these civilizations left a great impact on its populations' way of living to prosper and become what it is nowadays. Its old buildings has been renovated with the same architectural methods, to keep the same historical attractions that magnetize the tourists and force them to spend a memorable stay in Amman and enjoy its sites joyfully with the company of its people's hospitality.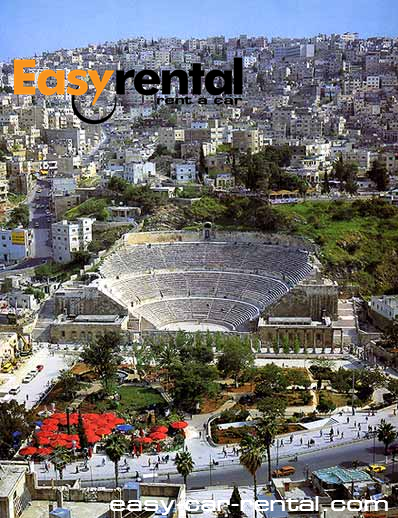 You can't drive in Amman without stopping by and strolling in its ancient streets that is vibrant with life and with the sounds of the crowded people in its cafes savoring its special sweets and traditional cuisine. And definitely, you can't miss its souvenirs shops that are spread everywhere. Nonetheless, to truly explore Amman's beauty, your visit should bump into the great museums of the city and its civilized sites that are mainly not far away, you can easily reach them in the downtown quarter. An important religious and military site that dates back to Roman and Byzantine times is the Citadel Hill of Amman. You can clearly notice remains of the Islamic era. There is a great building known as Al-Qaser, a palace, with a huge gate and audience hall with chambers. And somewhere near, you can spot a small Basilica of byzantine times, a church that dates back to the 6th century. The Temple of Hercules, known as Great Temple of Amman, also lies on the Citadel Hill, it has been reconstructed and resembles the Temple of Artemis. Moving to the great Jordan Archeoligical Museum that dwells a collection of antiques, exhibits of Dead Sea Scrolls and roman stones of Hellenistic prodigy and jewelry. And a small Folklore Museum that houses some of Jordan's cultural features like pieces of embroidery, mosaic, crafts and traditional customes. The historical Roman Amphitheatre was built in the 2nd century and seats 6000 people, it is still used for sport and cultural occasions. Many mosques are spread in Amman, Jordan's capital. King Abdullah I Mosque, Abu Darweesh Mosque , King Hussein Mosque are all amazingly designed mosques with startling architecture that dates to ancient times to keep track of Jordan's history and identity.
You will definitely enjoy your stay in Amman, a mixture of ancient and modern life that guide you to explore the treasures of such a wonderful ancient city.
Activities:
Al-Husseini Mosque

The Al-Husseini Mosque was built by the late King Abdullah in 1924 on the site of a much older mosque and possibly also the site of Philadelphia's Byzantine cathedral. Built in pink and white stone in the Ottoman style, it was fully restored in 1987.

Little House of the Arts

(Darat Al Funun)

This tranquil garden contains the former home of Peak Pasha, Captain (later, Lieutenant Colonel) Frederick Peak, who commanded the Arab Legion from the early 1920s until 1939. Now it is a gallery housing works by leading Arab artists.

Citadel

The site of the Citadel in Amman contains the remains of the Temple of Hercules, built between 161BC and 166BC, and the Jordan Archaeological Museum with its collections of pottery, glass, flint and metal tools, a copy of the Mesha Stele and the Dead Sea Scrolls. Nearby, the domed eighth-century BC Al-Qasr (palace) is the centerpiece of a once mighty Umayyad city. The Citadel ticket office is located on Mathaf Street, just off King Ali Bin Al-Hussein Street.

Hejaz Railway Station

The Hejaz Railway Station, which is best visited in a taxi, is like a time-tunnel to a vanished age. Just ask the taxi driver to take you to Mahatta - Arabic for Station. Trains leave from here to make the eight- or nine-hour trip to Damascus using rolling stock that was old when Lawrence of Arabia was attempting to blow it up. There's a fine collection of working steam locomotives that are used for corporate and tourist excursions, a remarkable little railway museum and a very friendly station master.

Roman Philadelphia

Downhill from the Citadel on Al-Hashami Street, the Corinthian colonnade of Philadelphia's original market place, The Forum, leads to a Roman Theater, built during the reign of Antonius Pius (138-161BC). On the left side of the theater stage a statue of a Bedouin warrior guards the Museum of Popular Tradition with its sixth-century mosaics, collections of antique jewelry and displays of traditional costumes. At the other side, the statue of a Circassian in traditional dress stands at the Jordanian Folklore Museum. A Bedouin tent features in a tableau depicting desert life and a recreated living room from an Ammani house depicts the life of city dwellers.

RoyalAutomobile Museum

This museum has an amazing collection of motorbikes and cars going back to the time of the Great Arab Revolt and includes the late King Hussein's 1952 Lincoln Capri (that he had when a student in England) and the 1955 Mercedes 300SL 'Gullwing' he once raced.

Drive the King's Highway

Over 330km long, this ancient artery passes through the heart of Jordan. It is possibly one of the most scenic drives anywhere in the world.
Where To Sleep:



Find Best Hotels In Amman:
Amman Marriott Hotel

Crowne Plaza Hotel Amman

Isam Al Ajlouni Street-Shmeisani

Amman, 11190

Enjoy the ancient city that was once part of the Decapolis league. Amman, Jordan's capital is at least 5000 years old. Amman is an incredibly pleasant city that offers a wide variety of historical sites and cultural attractions and is complemented by wonderfully welcoming people. At the Amman Marriott Hotel you will be steps away from the allure of this modern yet ancient city. The Amman Marriott Hotel has very easy access to all business and tourist areas of Amman and Jordan. Accommodation in Amman could not be any better with our newly renovated rooms that guarantee a good night's sleep.

PO Box 950555

Amman, 11195

Welcome Message Crowne Plaza Amman is only 30 minutes drive from Queen Alia International Airport & enjoys a prime location in the heart of Amman's City Center, business district & major shopping areas. We offer 279 guestrooms including standard, Crowne Plaza club, & suites. All guestrooms are contemporary chic, furnished with LCD TVs, comfortable therapeutic mattresses, fluffy pillows, high speed Internet at 13 MB, satellite TV, trouser press, tea & coffee tray, mini-bar & safe box.

Four Seasons Amman

Grand Hyatt Amman

5th Circle, Al-Kindi Street,

Amman,

Between the prestigious Al Sweifiyah residential area and the Shmeisani financial district, Four Seasons offers Amman s finest setting for business or leisure. Its dramatic hilltop location presents breathtaking views of the surrounding cityscape. The Four Seasons Hotel Amman is on the crest of one of the city*s highest hills and commands a central location in the 5th Circle near the city*s most desirable residential, shopping and financial districts.

Hotel, Amman

Amman, 1183

A 311 room,luxury 5 Star Grand Hyatt Hotel situated in the heart of Amman's stately business and diplomatic district with an invaluable direct link to the Trade, Exhibition and Conference Centre. 30km/30 Mins by car to Queen Alia Intl Airport. 10 minutes by car from the old Souk, and the Amphitheater, (downtown). 45 minutes from the lowest point on Earth, (dead Sea).

InterContinental Amman

Le Meridien Amman

Queen Zein Street

Amman, 11180

InterContinental Jordan is well-established as the area's preferred business hotel, but leisure travellers are equally at home in the comfortable surroundings. Situated atop one of Amman's seven hills, the hotel is in the heart of the business district, within walking distance of the city centre and a short taxi ride from popular sites such as the Citadel.

Queen Noor Street - Shmeisani

Amman, 11110

Set in the heart of Jordan?s capital city, Le M?ridien Amman is located in the centre of Amman?s Shmeisani commercial business and diplomatic district. A walk away from the Amman Citadel, the Roman Theatre, and many of the city?s malls and shopping areas and a daytrip away from the Dead Sea, Jerash, Petra, and Aqaba, the hotel is an ideal gateway to all that Jordan has to offer. The hotel?s extensive multi-sized conference rooms include the Royal Convention Centre, which can accommodate up to 1,200 guests.

Sheraton Amman Al Nabil Hotel & Towers

5th Circle

Amman, 11184

With a spectacular hilltop setting, the Sheraton Amman Al Nabil Hotel & Towers echoes the Kingdom of Jordans philosophy of hospitality mixed with the amenities of a vibrant, modern nation. Designed in eye-catching white stone, we are located in the heart of Ammans embassy and business district.
?