Wadi Rum | Easy Rental Amman Airport Car Rental
Jordan Tourist Sites - Attraction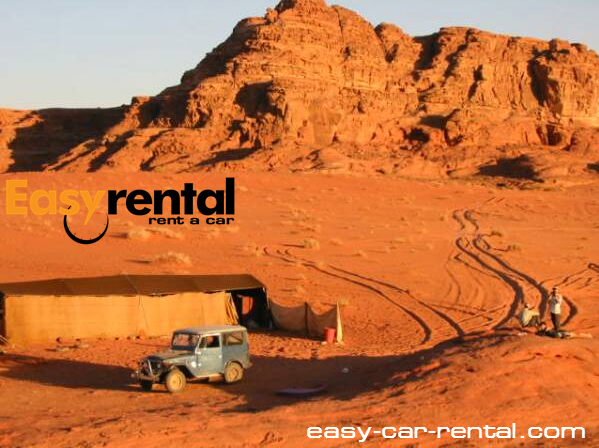 Wadi Rum is a very spectacular desert resort that is situated in south of Jordan, about 70 km. to the north of Aqaba.
Wadi Rum is very famous for its high mountains and pink sand. Actually, its as famous as Petra, one of the world's seven wonders. It's a popular tourist attraction for those whom nature provokes them to explore it and its desert beauty.
As a desert area, Wadi Rum is sometimes difficult to reach that is because it is about 30 Km. far from the main highway between Aqaba and Amman. However, this fact has given Wadi Rum its unique characteristic as a remote and peaceful area. Because it's located in the desert, you do not want expect to find luxurious hotels or spas in Wadi Rum.
However, you may find numerous tourists camps, which offer tourists with the special Bedouin experience in the desert and give them the chance to sleep under the stars in single tents. In additions, tourists may not use ATMS or banks; instead they can go to local shops to buy what they need. Tourists can also use the buses that run between Rum and Aqaba, one at 1:00 PM and the other at 3:00 PM, which also comes from Petra and leaves at 6:30 AM and leaves to Petra at 8:00 AM.
One you arrive at the visitors' center, you will find the necessary information. You can also reserve a guide, who can take you on special trips to Wadi Rum and can speak English as well. If you want to have a guide, you are advised to call two days prior to your arrival. Visiting Wadi Rum gives you the chance to get in touch with some Bedouins traditions and customs.
If you were lucky enough, you may get the chance to visit some local Bedouin tribes by using the four –wheel vehicles, riding on camels or maybe just walking plus other tourists' activities.
where to stay In Wadi Rum
Wadi Rum :Bait Ali
If you want to stay in the area but are not wild about roughing it, then Bait Ali offers a wonderful compromise. Tucked behind a hill, with a sublime view of the wilderness, this up-market, eco-friendly camp is clearly signposted just off the road, 15km from the Desert Highway and 9km from the Wadi Rum visitor centre. The accommodation (either in army tents or twin-bed cabins) is basic but spotless (and includes linen) and a separate shower block with hot water for men and women. The facilities include an excellent restaurant with an extensive nightly barbecue, a circular meeting hall with a central fire, a bar and comfortable, cushion-filled Bedouin tents that add an exotic Arabian Nights atmosphere to the camp. There is even an attractively designed swimming pool. You can pitch your own tent (JD8) or park a camper van (JD8) and use the shower block. The owners are delightful and can advise on bike rides, hikes, ballooning and other activities in the local area. The hike around Lion Mountain (12km, three hours) is particularly recommended.
What you can do in Bait Ali
Buggies Safaris
Long awaited & only at Bait Ali, Wadi Rum. Enjoy a spectacular ride through incredible scenery, absolutely not to be missed! Jeep tours For those whose energies or time wont allow for our other activities, a jeep tour will take you off the beaten track no matter how tight a schedule you have, we will at the very least give you an appetizer of Wadi Rum and hope that it will encourage you to came back again.
Horse Riding
Bait Ali offers fully inclusive programs ranging from a few hours to a week and more, on well mannered Arabian horses. The area is truly unique and for those with a reasonable background of riding, horse back is one of the best ways to see this really incredible area.
Camel Riding
No trip to this region would be complete without camels. We will be pleased to arrange tailor made trips from a few hours to several days, so, for those who are not so proficient on horseback, try a camel.
Hot air ballooning
Travel in style, see Rum as never before! Hot air ballooning from Bait Ali from 3 - 16 pax. Please phone in advance for bookings.
Land Sailing
Unique in Jordan - too windy to fly, try sailing in the desert! This new sport to Jordan is easily learnt, totally safe & suitable for almost all ages. Great fun!!! Please phone in advance for bookings.
Wadi Rum: Mohammed Mutlak Camp
In a beautiful spot overlooking Jebel Qattar, this camp is run by brothers who speak English well. Half board costs JD30 per person and dinner may, if you're lucky, include delicious lamb cooked in a zerb (oven buried in the ground). Transport by 4WD to the camp is free if you don't visit anywhere en route. You can come by camel (JD20, two hours and 15 minutes). Hiking opportunities include a 45-minute hike to see the merging of red and white sand dunes. There is no electricity, but light is provided by gas lamp.
Wadi Rum: Rest House
The frayed tents at the back of the Rest House in Wadi village offer the most accessible accommodation, but they're only recommended if you arrive in Wadi Rum too late to head into the desert. Some of the mattresses are very thin. You can pitch your own tent for JD1, which includes use of toilets and shower block. The site has little security so keep your valuables with you. Dining here is open-air and buffet-style. Sipping a large Amstel beer (JD2.500) while watching the sun's rays light up Jebel Umm al-Ishrin is the perfect way to finish the day.
Wadi Rum: Sunset Camp
Near Umm Sabatah, this well-run camp has been recommended. It offers a half-/full-day 4WD excursion, half-board accommodation and food at the camp, and a lift back to Rum village the next morning with prices dependent on the size of the group. It's best to contact the camp in advance for a quote.
Activities:
Horse Riding
Camel trips
Hot Air Ballooning and Ultra Light flights